During this weekend you will be guided through basic felt making techniques and introduced to the process required to make a piece of flat felt as well as a three dimensional piece.
This weekend will by led by Barbara who has years of experience in teaching Art as well as having had the pleasure of setting up and running the Art venue at New Wine North.
Barbara has particularly enjoyed working with people who for years have lived with the label of 'being no good at art or in no way creative' and loves seeing the satisfaction on a person's face when they create something they are pleased with.
Whether you consider yourself in this category or come with varying degrees of experience in art there will be something for everyone at this weekend.
What to bring: A willingness to let yourself be freed from the constraints of labels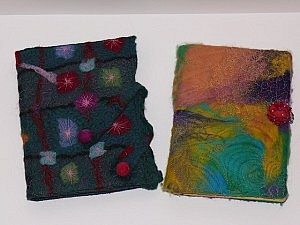 about your abilities as well as an old towel and rolling pin.
What not to bring: Pre-conceived ideas about what you intend to make and especially designs specifically of a 'religious' nature. We are going to allow God to speak to us and possibly use the
environment as our starting point.
Event type: Creativity & Interests, Nether Springs Retreat