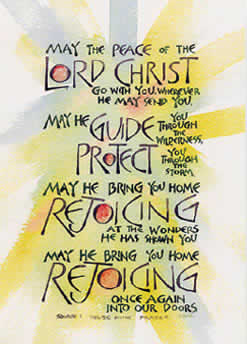 PLEASE NOTE: NETHER SPRINGS IS CLOSED TO GUESTS UNTIL FURTHER NOTICE, DUE TO COVID-19.  
Seeing a stranger approach,
I would put food in the eating place,
drink in the drinking place,
music in the listening place,
and look with joy for the blessing of God,
who often comes to my home
in the blessing of a stranger.
The Nether Springs is the 'Mother House' of the Northumbria Community, situated just outside of Felton, Northumberland.  The facility consists of converted farm buildings, four-sides around a courtyard, not unlike a traditional medieval monastery.  The rooms are spacious and comfortable.  We have nine ensuite rooms that can be set with twin beds or a super-king, and one larger ensuite room that is designated as a family room.  The house is wheelchair user-friendly and one of the ensuite bedrooms is wheel-chair accessible.  We have space for twenty-two guests to spend the night.
It is home to a small team of resident Community companions, who in the context of seeking God themselves, help keep the home running smoothly and facilitate retreats for guests.

It's possible to come on a 'programmed' retreat, where we focus on a particular theme or to come with just to be and have some quiet space. 
Click the 'What's On at Nether Springs' menu item over on the left to find details about the programme of Retreats.
Here is some important information  about staying at Nether 
Springs:
A Typical Day's Programme following the pattern of a basic monastic day rhythm.
Before 9.00 am    Self-service breakfast and clear up
9.00am     Morning Office
10.00am   Retreat, instruction, study, work

12 noon    Midday Office followed by Quiet for sacred reading, prayer and reflection

2.00pm     Work, pottering, creativity, walking

5.30pm     Evening Office followed by quiet reading

7.30pm     Rest, recreation, reading and reflection

Programme Times and Format
Weekend programmes normally begin at 5.30pm on the Friday with evening prayer and end on Sunday at 2.00pm. For all retreats, it would be helpful if guests aim to arrive between 3.00pm and 5.00pm and leave after 2.00pm on the day of departure, as this fits with the rhythm of the day. Day guests are welcome to join us from 9.00 am onwards. Advance notification is needed if evening meal is required.
Coming by Train to Nether Springs
Our nearest train station is Alnmouth and we pick-up and drop-off at the beginning and end of each retreat at approximately  3pm. Please let us know before hand if you would like to be collected from the station. We do ask for a £5 each way donation towards the cost of travel.
House Closed
As part of our commitment to monastic vocation we close the House the last full weekend each month, not only to give those living at the Mother House breathing space but also as a way of affirming the importance of the ebb and flow of life. For this period 'the tide is in'.
Beyond the stated programme
Groups:  It is often possible to accommodate individuals and groups in addition to or instead of, the stated programme. Block bookings are welcome provided they work with our established daily rhythm.  If you are interested in bringing a group, please contact the office, and we can discuss details of your particular group.
Space: People come to the Nether Springs for many different reasons, including making a retreat, giving themselves time to rest and reflect, to seek guidance, or just out of plain curiosity. You are very welcome to spend time here without taking part in the led programme.  We do, however, encourage all guests to follow the rhythm of the day. It is also possible to stay from Monday to Sunday, but we do not have guests staying on Sunday nights.  Also, to make an 'Individually Guided Retreat' one doesn't have to explore the exact theme (like 'Being Who You Are') during the retreat itself.
Contact Us:
Send us an email  office@northumbriacommunity.org
Tel: 01670787645
(Office Hours are normally 10:00am to 4:00pm Monday to Friday; if you get our answering machine, please leave us a message and we'll call you back.)
Costs
As a registered charity, we do not ask for a set fee to cover your stay at Nether Springs, but invite donations to support the work of the Community. This is important to us as we don't want to exclude anyone from staying at Nether Springs on financial grounds. For your guidance, and if you are able, the suggested donation is £45 per guest per day full board.  For led retreats, an additional £10 pounds is included in the suggested donations for each day's sessions.  We ask that you make as generous a donation as is possible without risking hardship, the generosity of those who can afford more will subsidise those who cannot. As the weekly and monthly costs of running the Nether Springs as the Mother House and administrative centre of the Community are substantial, we would greatly value your integrity and generosity in this regard. British tax payers are invited to use Gift Aid for any donations above the suggestion.
Children
Children aged under 14 are half the suggested donation, under 8 free.
Although children are very welcome where appropriate, parents must at all times take full responsibility for them, especially during times of quiet and retreat.
Internet  
Please note:  The only Wi-Fi Connection available at Nether Springs is through a pay-as-you-go BTOpenzone 'Hotspot' using your own laptop.
Pets
We regret that pets belonging to guests are not allowed inside the house, except for guide dogs. Information about kennels near to the Nether Springs is available from the Community Office.
Catering
We can cater for food allergies with FreeFrom ready meals (for this we ask for a £10/retreat donation). We do offer a vegetarian alternative, if you would like either of these please contact us before arrival.
Lost Property
We are happy to send on any property you may leave behind (for P+P).
Unclaimed property will be kept for one month.
Things you may find helpful to bring with you are:  
•    Torch              
•    Towel                                                                                                                                                                          
•    Comfortable walking shoes/boots (especially for pilgrimage)
•    Notebook/pen
•    Wet weather gear
•    Clothing in Layers