A commitment to Companionship is a commitment to the following:
Seeking God as the one thing necessary, alone and together.
Covenanting together before other Companions to embrace the Rule as a Way for Living and living it out.
Recognising that Exodus and Exile still characterise the people of God in a changing post modern culture and responding by living the core values.
Being available to Community and to other Companions through relationship, practical help, soul friendship, Community teams, and where appropriate other roles such as serving as a Novice Mentor.
Taking time at least annually to reflect with at least one other Companion on where each is in their personal journey and in their journey with Community.
Remaining teachable and committed to spiritual formation which includes constant learning about our Way for Living, for example through reading or listening to teaching resources or attending a led retreat or gathering.
Using the Community Prayer Guide for intercession and prayer support
Making a spiritual renewal of vows each Easter, if possible in the company of other Companions, either on Holy Island on Easter Sunday or at a gathering near home.
Trying to attend a Community Group in your area
Being supportive of mission and Community Gatherings in your area
Being supportive of Nether Springs as the Mother House and administrative centre of the Community's life
Finance
As a Companion you will be asked to contribute to the family purse with a suggested minimum donation of £30 per month, preferably by Direct Debit and, if appropriate, through Gift Aid. At less than £1 per day, this will be affordable for most. We are very thankful that many can and do give more than this but we are also conscious that some may not be able to afford even this much. For this reason we do not think of regular giving by Companions as a subscription. We do not want anyone to feel that they cannot be a Companion because they cannot afford to contribute as much as others. We simply ask you to pay what you can as an expression of belonging and commitment to Northumbria Community. All giving is strictly confidential.
We believe our commitment to our vocation and vision, and our dependency on God, must be expressed through our willingness to give and serve. The contributions of Community Companions represent only a small percentage of the income required to fund the growing work of the Community but a necessary one if we are to fulfill our responsibilities and commitment to serving God's purposes, as He has laid them on our hearts.
Journeying with the Northumbria Community
Although we are not a religious order as such, we do take our vows of Availability and Vulnerability very seriously. We seek, as a geographically dispersed Community network, to follow a lifestyle of Alone/Together that mutually blesses and encourages one another on the journey. Having read through this booklet you will now realise why we use the term Companion to describe one who is walking the journey with us. A Companion is a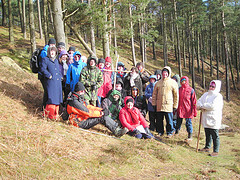 person who associates with another, who shares the lifestyle of, and travels with, another. The root meaning of the word is the latin phrase 'cum pane', literally 'one who eats bread with another'. Our understanding of the spiritual life as travel emphasises a willingness to explore the inner journey, the landscape of the heart, as well as the outer journey, the landscape of the land which we all traverse in life as it is. In this we find that most are more alone than together but find inner companionship with those who have embraced the same Way for Living. So for us it is not so much being a member of an organisation but rather being a Companion with others in a conscious embracing of a shared life and lifestyle. We are all on the same journey of faith with the Rule of Availability and Vulnerability uniting our hearts so that we are Alone in our uniqueness but Together in our commitment to persevere as Companions in Community on a journey. It is this sense of ownership and belonging which marks out a Companion who is committed to the vision and vocation of Community.
We eat together, even if it isn't at one table, we live together, even if it isn't in one house, we pray together, even if it isn't in one chapel
If you would like to explore what is involved in becoming a Companion there is plenty of information you can take a look at, if that doesn't seem the right thing at the moment you can become a Friend of the Northumbria Community