'Only be careful, and watch yourselves closely so that you do not forget the things your eyes have seen or let them slip from your heart as long as you live. Teach them to your children and to their children after them." Deut 4:9
Beginnings can be traced to relationships formed in the late 70's and early 80's initially with John and Linda Skinner and Andy Raine in North Northumberland. Here God planted the seeds of vision and vocation in their hearts that bore fruit in the ideas, images, metaphors and concepts that were foundational to the ethos and spirituality of what was to become the Northumbria Community. These were often birthed and grown in the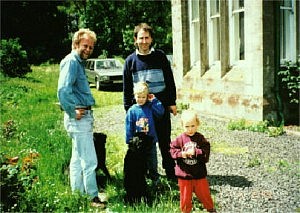 context of an Annual Easter workshop where relationship and teaching were explored, always culminating in worship and witness on Holy Island on Easter Sunday.
In the mid 80's the Nether Springs Trust was formed to release John into a ministry of spiritual direction in the context of a contemplative calling. In 1989 an apostolic group called Northumbria Ministries, committed to mission in the ancient kingdom of Northumbria, led by Roy Searle, met with the group that represented Nether Springs and explored a coming together as one. This led in June 1991 to The Nether Springs Trust, Home of Northumbria Ministries, a prelude to the Northumbria Community.
As the founders pioneered and explored, a Community emerged around them, unplanned, spontaneous. Then out of a life actually being lived, with shared relationships and common values, a way of life was formed centred in 'the one thing necessary' of seeking God through Availability and Vulnerability. In discovering the history and heritage of Celtic Northumbria; the strong links to the saints and scholars of Ireland, the wisdom tradition of the Desert Fathers, the 'mixed life' of the Franciscans, there was a blending of cell and coracle, of monastery and mission, from which the language and ethos of the Community was born and is still sustained.
These core values became the 'interpretive framework' for the vocation and vision of all subsequent Companions in Community: a means of handing on the tradition. In 1992 we moved to our Mother House at Hetton Hall, representing the Nether Springs, and reflecting the heart, home and hospitality of a Monastic centre; a focus for our spirituality and a major expression of our life.
Officially adopting the name Northumbria Community in 1994, the now considerable growth resulted in a call to Community in 1995, which sought to move roles and responsibility from the Founders to the Few to the Many. This led to the re-formation of the Community Council and began a period of training and preparation for Trevor Miller who would succeed John and partner Roy in Community leadership. In January 98 at Bradford Cathedral John and Linda formally relinquished the responsibility they shared for the Community in order to concentrate on pioneering the European vision of the Celtic arc, from Turkey to Ireland.
Latter years have seen the continuing fulfilment of the truth that 'there can be no Northumbrian spirituality without the monastery and the monastery exists for mission', as the task of 'building the new on foundations of old' and 'the giving away of that which is not ours to keep' continues to influence many.  United in 'a monasticism of the heart', committed to prayer and mission, Companions in Community now live Alone and Together in many parts of the world.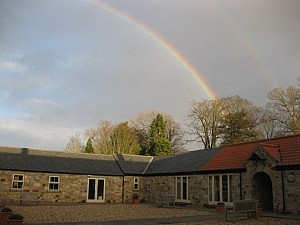 A fuller exposition of the Community's history will be posted in this section very soon!  Yes, we've been saying that for a long time, I know……but it's coming……so do keep checking back.