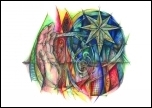 Caim
Words:
None
Background:
Artist Mary Fleeson tells us that…'"Caim" was originally designed as a CD cover for an album of prayers set to music by the same name, therefore the imagery reflects themes of the music included, however as is often the case the illustration evolved into something which speaks beyond the obvious inspiration.
The hand seems to reach out in a loving, gentle gesture to caress the face of the Creator, symbolised by the star (Revelation 22:16 'I, Jesus, have sent my angel to give you this testimony for the churches. I am the Root and the Offspring of David, and the bright Morning Star.').
The complex knotwork intersperses three overlapping circles which represent the Trinity and the patterns and colours are life patterns, weaving and merging, coloured by experiences, actions and reactions.'
Printing and Sizing:
This item is 210mmX297mm and is printed on 300gsm card stock using our in-house printer. Each print is individually signed by Mary Fleeson and is packaged in a cellophane wrapper with a descriptive backing sheet explaining more about the piece and the Scriptorium.
Additional Information
| | |
| --- | --- |
| Weight | 0.09 kg |
| Format | Print – A4 |